Our Suppliers
We work with a number of carefully chosen suppliers who all share our commitment to sustainability and excellent quality.
All of our Haddock and Cod is supplied by either Henry Colbeck or Fastnet.
Henry Colbeck also supply our refined and deodorised White Rose Beef dripping which is approved by NEODA.
T Quality supply our dried goods and drinks along with our Pukka Pies and our Drywite potato preparation.
Sustainability and MSC
Mister C's are acutely aware of the impact of over fishing and its effect, locally and globally on the environment. Consequently Mister C's only use fish from sustainable sources. As part our commitment to responsible fishing, we only source sustainable fish.
In 2014 we committed to achieve MSC certification, and are one of only a handful of fish and chip shops within the UK to be awarded MSC certification.
MSC certification allows us to trace each and every fish we sell to the exact time, date and location in which it was caught. It provides us with a chain of custody which is maintained from the moment the fish is caught, to the time it's served to our customers. The chain of custody guarantees that all the fish we use have come from sustainable stocks.
All fish used at Mister C's are both MSC certified and sustainably sourced. This ensures that fish shops like Mister C's can continue to serve the finest quality fish for many years to come.
Click here to view our Seafood Policy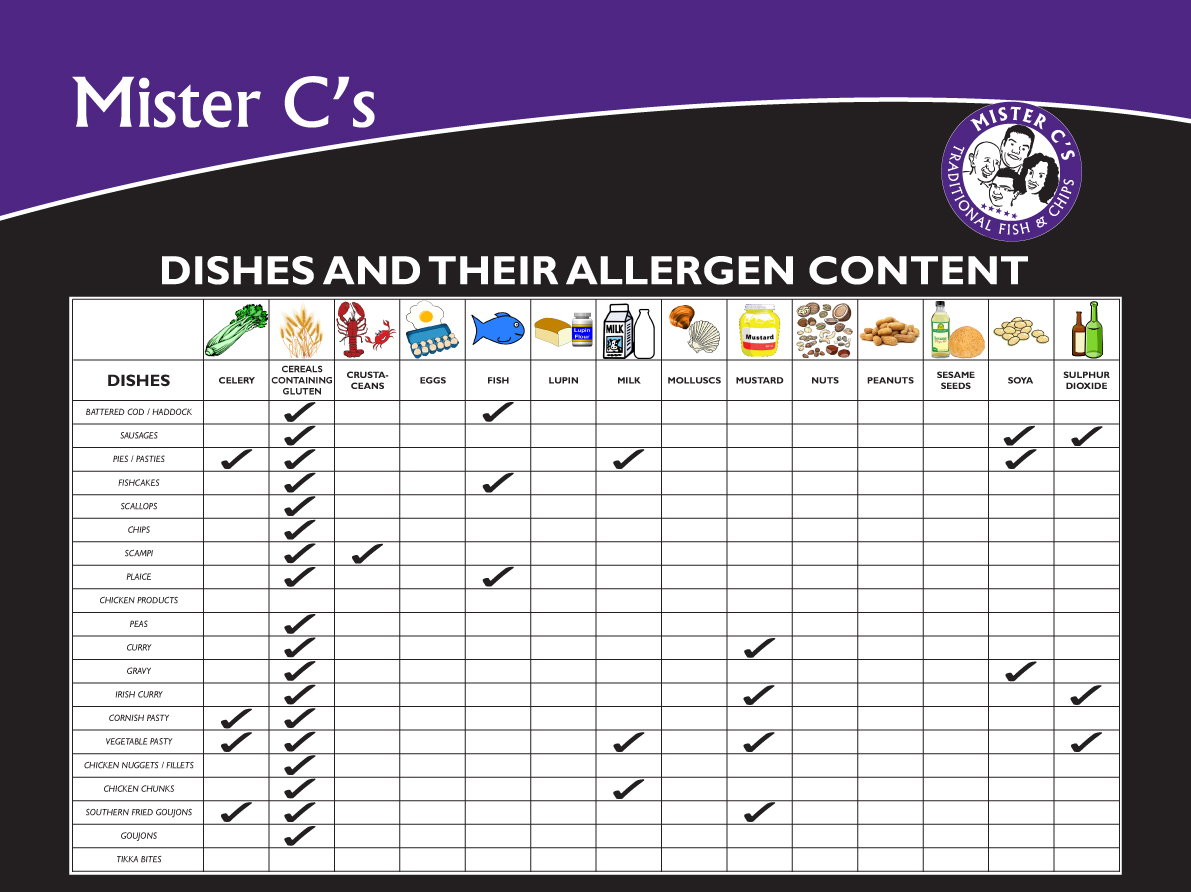 In accordance with new food regulations introduced in December 2014, we have developed the above chart to highlight any allergens contained within all products we sell.
All staff are trained to understand this chart and are able to offer advice should it be required. If you have any questions or concerns, please do not hesitate to contact us.