Every Tuesday between 4.30pm and 7.30pm in the evening, we prepare gluten free fish and chips in addition to regular fish and chips.
If you require gluten free food, then please let us know when you place your order with us and we'll take care of your order.
Several years ago we recognised that many customers who suffer from Coeliac's disease were unable to enjoy fish and chips. That was simply unacceptable to us, so we decided to create a gluten free menu especially for customers who suffer with Coeliac's disease on one evening of each week.
In order to guarantee gluten free food we:-
Empty and thoroughly clean all our fryers and pans.
Use separate utensils to serve our gluten free fish and chips.
Refill all our fryers with fresh new cooking fats.
Train all our fryers and servers to handle and prepare gluten free food.
Make all batter from rice flour.
All of these measures are specifically in place to ensure that our award winning fish and chips are Coeliac friendly.
So whether you decide to eat in our Restaurant, or take-away your food, we can guarantee that your Tuesday evening meal will be gluten free.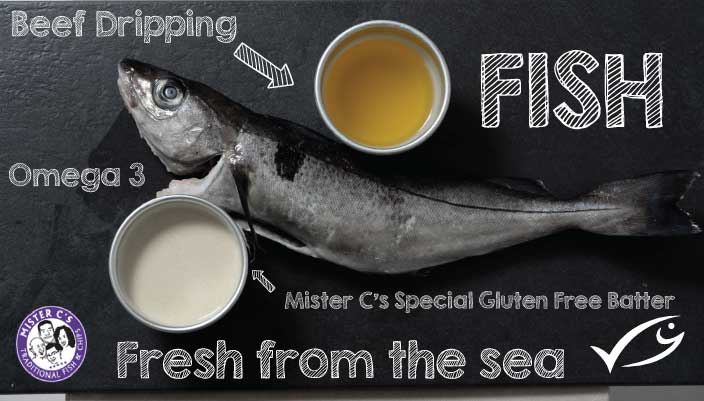 We offer a Light Bite Fish (3-4 oz) as an alternative for those looking for a healthier option as well as a Poached Haddock & Salad.
For the children, healthier choices include Breaded Salmon & Salad, Beef Pasta & Vegetable Bolognaise and Poached Light Bite Fish & Salad. Served with a piece of fruit.
Should you have specific dietary requirements please ask in the shop or call us on 01757 701913 and we will do our best to accommodate your needs.