Mister C's can cater for any event you might be thinking about organising. Events which we cater for include:
Birthdays and Christenings.
Weddings and Engagements.
Christmas and birthday parties.
Corporate hospitality and events.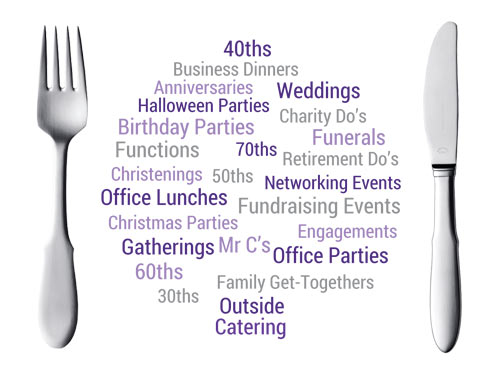 Guaranteed Service and Delivery
We can arrange to deliver and serve piping hot delicious fish and chips (all boxed as individual portions) to your event at the time you requested.
Ensuring the food is piping hot, fresh and crispy is only gained through experience, dedication and attention to detail. Skills like these are not immediately apparent or developed overnight, and Mister C's has spent many years, developing and fine tuning these skills.Mister C's serve all event food boxed in individual portions, so there's little for you to do after the event. This allows you to focus on what's important, your event!
Contact us to see how we can make your event extra special.
If you're considering booking us to cater for your special event, please note the following:
Minimum £50.00 order value in order to qualify for free delivery.
Mister C's can only deliver food within a 2 mile radius of Selby town centre.
We require a minimum of 24 hours notice before we can cater for your event on weekdays and require a minimum of 48 hours notice if your booking is made at the weekend.